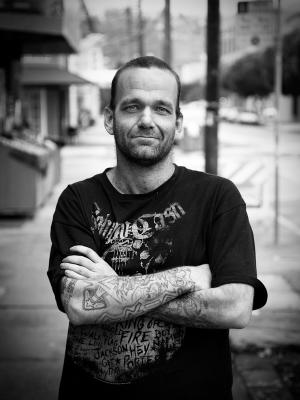 We first earned Dave's* trust because of a simple, yet radical step of obedience.
For over five years our team has been serving pancakes in Golden Gate Park as a way to both meet a tangible need and more importantly to serve as a community gathering place where we can connect with the homeless and traveling youth that come through the Haight-Ashbury neighborhood of San Francisco.
On this particular Monday morning the rain was really coming down, and we groaned at the idea of getting soaked for the sake of serving a few pancakes for those crazy enough to be out in this weather. All we had to lose was dry clothes, though, so we decided to go in the spirit of obedience.
Dave was on the hill that day, sitting out in the open rain not even attempting to find shelter. Just wet and alone. I'm sure we were a comical sight, trying to set up a make-shift shelter to cover our camp stove, and he eventually came down the hill to get some coffee and pancakes.
The love and compassion that he saw that day sparked a change in the way he viewed Christians and he began to open up his heart to our friendship. Soon thereafter Dave surrendered his life to the love of Jesus, and we've been walking with him on his journey, which has been marked with painful setbacks as well as joyful victories, for the past 5 years.
The tables were turned about a month ago when I got to be the one watching Dave take a simple and radical step of obedience. After getting out of prison last year he came straight to San Francisco to be with our team and has taken some major steps forward in towards life growth. This included becoming a committed member of a church, living inside, and getting free from his addiction to alcohol. With the violation of his parole, though, he knew that he couldn't continue in his old way of ignoring his responsibility--so he decided to turn himself in to finish out his parole time in prison.
I was sad, and yet incredibly proud of him as we drove to the Yuba City Sheriff's Office and I watched him give away his freedom for the sake of obedience. I know it wasn't easy, and yet I am certain that he will bear fruit for years to come because of this step of faith.
- Paul Nix, Outer Circle San Francisco
*not his real name