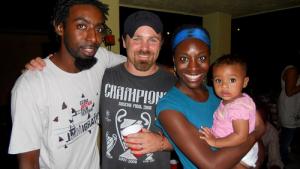 Joining InnerCHANGE is a process of discovery and discernment. It's more courtship than marriage; more about journey than the destination. We've designed several "onramps" into our neighborhoods: with time commitments from small to large to accommodate your interests and life stage. Nobody signs up "for life" right at the beginning. Instead, we invite you into a journey of discernment as we walk alongside one another for a specific season.
Our commitment to you, common among all service opportunities, is that you'll experience life and ministry on one of our teams in a poor neighborhood. You'll receive on-location training as well as the mentoring you need to integrate your learning and experience. And we'll take time at the end of your commitment to evaluate and debrief in a way that guides your ongoing discernment.
Read more below about our three entry options: summerXchange, Internships and Apprenticeships. Check the "Service Opportunities" portion of our site to see which teams are currently accepting applicants.
When you're ready, click "Apply Now" to start the application process. It takes some time; but don't worry, you can save and come back to it later if you need to.
In the meantime, if you'd like us to stay in touch with you or if at any point you have questions or just need to talk with somebody, just share your details with us using our Interest Form Indicate what your interests might be and we'll update you with new developments as they come up.
Internships: 6 weeks - 11 months
Internships are a great short-term experience of life and ministry on an InnerCHANGE team. Each internship's length of time, specific role, mentoring plan, and other considerations are arranged with the team leader where you'll be serving.
The focus of our internship is discernment in the context of service. As you gain a taste of life and ministry in an InnerCHANGE context, we aim to guide you into better understanding of who God made you to be and whether you might be called to longer-term ministry among the poor.
Consider interning with InnerCHANGE if you have a specific season of time or location in which you'd like to serve. Internships are also good ways to arrange an extended visit with one of our teams outside the United States. Many academic programs will allow you to gain internship credit through InnerCHANGE as well.
Internships require a small amount of up-front fund-raising, but the cost is determined by where you're going and the length of your stay. These arrangements can be made with the team leader. Generally internships are not long enough to require substantial fundraising but InnerCHANGE would be glad to send literature to help interns talk with potential donors.
Please be aware that it takes several months to arrange an internship.
Apprenticeships: 1 - 3 Years
US TEAMS: 1 YEAR
The InnerCHANGE US Apprenticeship is a year long formation journey with an InnerCHANGE team. With the help of able leaders in a supportive environment, apprentices live in a poor community. They learn through guided action and reflection and experience a lifestyle of loving Jesus through service with those the world has deemed least and last. The apprenticeship is about our discovering together who you are and whether you might be called to a life of ministry among the poor with InnerCHANGE. US Apprenticeships run from September to September or occasionally from January to January.
Apprentices in the US are asked to raise part-time or full-time support, but may also hold a part-time job for additional income. Ideally your part-time job would be in the neighborhood where you're serving and somewhat strategic to your team's ministry vision.
INTERNATIONAL TEAMS: 3 YEARS
For many of our international teams, the first step in becoming an apprentice is completing an internship or a site visit. Due to the necessity of learning the language and culture of the country, InnerCHANGE asks you to make a three year commitment to the Apprenticeship (1 year) and Novitiate (2 years) with one of our international teams. Because making a move overseas is "full-time," people pursuing this course must apply as long-term staff and raise their full support before deployment.
THE INNERCHANGE FORMATION RHYTHM (COMMON TO ALL TEAMS)
Our one-year formation cycle begins every year in October. The calendar is divided into four quarters focused around one of the three InnerCHANGE currents.
First Quarter (Oct-Dec): THE MISSIONARY CURRENT
Second Quarter (Jan-Mar): THE CONTEMPLATIVE CURRENT
Third Quarter (Apr-Jun): THE PROPHETIC CURRENT
Fourth Quarter (Jul-Sep): INTEGRATING THE CURRENTS
COMMON ELEMENTS OF THE APPRENTICESHIP IN THE US & INTERNATIONALLY:
Living incarnationally in a poor neighborhood alongside one of our teams.
Learning about the culture and language of the neighborhood
Participating in InnerCHANGE community life
Meeting regularly with an InnerCHANGE mentor
Experiencing InnerCHANGE spiritual formation
Regular gathering in a "Learning Community" for reading, reflection, and sharing
Participating in regular retreats with other apprentices and staff
Taking private spiritual retreats for reflection and discernment
Contributing to InnerCHANGE publications
Discernment of your next steps with your mentor, team leader and team
Applications for Apprenticeships beginning in September are due every year by June 15th. We'll be in dialog with you and your potential team leader once we have your completed application and all of your references. Decisions for placement happen in June, and you'll be notified no later than July 31st.