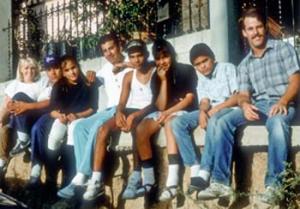 The early history of InnerCHANGE can be traced to God's work in the background of each of our staff. As a missional community, InnerCHANGE was birthed in idea form in South Central, Los Angeles, in 1983 when John Hayes waved good-bye to a vanload of volunteers from a mainstream suburban church. John was living and ministering in South Central at the time, designing programs and points of contact to match volunteers with families in need.
As John watched the van pull away, he experienced a moment of frustrating clarity and conviction. He saw that good-hearted Christians doing "commuter" ministry were conveying little impact, that driving down and driving into people's lives were two very different propositions.
In the summer of 1984, John relocated to Orange County to begin a ministry that based its people in the inner city to minister from the inside-out, not just flirt with the edges. InnerCHANGE began by sharing good news in word and works through personal relationships and by drawing a sharp distinction between serving and providing services. In July 1985, InnerCHANGE became a part of CRM (Church Resource Ministries) in order to gain the company of like-minded brothers and sisters and enjoy a larger, more fleshed-out learning environment.
From its beginnings in Santa Ana, California, InnerCHANGE has grown to more than eighty staff serving in a number of cities nationally: Los Angeles, San Francisco, Minneapolis, Oakland, Boston and Miami as well as internationally: Cambodia, Bangladesh, South Africa, Guatemala, Venezuela, and England.
Additionally, in 2010 InnerCHANGE was joined by a sister-order called Communitas. Communitas is a "second order" to InnerCHANGE: living rhythms, values and commitments mirroring those of IC. Communitas is presently in New Orleans, soon to replicate in other cities.
In April of 2010 InnerCHANGE celebrated its 25th Anniversary. Listen to our founder, John Hayes, describe InnerCHANGE's beginnings in a recording from our 25th Anniversary celebration in August of 2010.