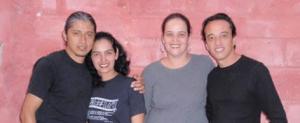 Xela Team History
InnerCHANGE started in Xela, Guatemala with a 40-day exploration in the summer of 2005. During this time, God revealed to us what he was doing among the poor and marginalized in Xela.  As a result, German & Karla Avila and Julio & Melanie Avila now minister among the city's shoeshine boys and incarcerated women.  In each of these areas of ministry, InnerCHANGE walks alongside local leaders & volunteers offering spiritual, emotional and hands-on ministry support.
Shoeshine Boys
InnerCHANGE is responding to the plight of street children in Xela.  It starts with forming friendships on the streets where they work, hang out and live.  As we listen to their stories, trust is built and eventually they are able to begin to receive love; God's love and our love.  We also visit a dormitory, run by an elderly Guatemalan couple, where some of the kids sleep after a long day on the streets.  A group of kids have left the streets and are now studying - five are pursuing their high school diplomas and two are in a carpentry trade school.
Immigrant Youth
With the blessing of their families many young children and youth leave Guatemala to pursue a "better life" in the United States. Along the way, many of them are caught by police officials and sent to deportation centers to await their parent's arrival. One of these centers is in the heart of Xela. Kids arrive by the busload disillusioned and scared. In the past, InnerCHANGE has visited this center several times a week to encourage, to listen to, and to share a biblical reflection with these youth. Currently, this ministry is "on hold" until our team grows.
Women's Jail
Additionally, InnerCHANGE and a group of local volunteers lead worship and a bible study weekly inside the womens jail. The women come to praise the Lord, and to learn more about his word. Afterwards, there is time to share and pray with one another. The team also accompanies women to their court hearings, offering them companionship and counsel.