Our Location
The Westlake/McArthur park neighborhood of Los Angeles is home predominantly to Mexican and Central American immigrant families. InnerCHANGE has been in this large, densely populated area for decades. The team has had seasons of living in and influencing different pockets of this neighborhood.
InnerCHANGE in Los Angeles
In 2008 the current team, Alastair & Catherine Rundle and Lyndy Rutledge, planted themselves in a pocket of the neighborhood where InnerCHANGE was not formerly known. As they have been building relationships and community among neighbors the Lord has given a vision which they're living into. It is a vision of a garden as an environment of sanctuary to cultivate godly leaders through cultivating the land together. The vision is rooted in Jeremiah 29:4-7, here the Lord reveals to exiles, a process to develop peace and well-being in a foreign land; there are multiple parallels for our immigrant neighbors. It is a process of neighborhood transformation.
We are in the preliminary steps of realizing this transformation: building a benevolent community through accompaniment and family oriented bible studies, learning about gardening, engaging the City of Los Angeles, regularly visiting sick and dying residents in a local convalescent hospital...
The team has always emphasized loving our neighbors, affirming their identities as God's beloved and enabling ministries to emerge through the hopes and needs of local leaders. John and Jude Tiersma Watson, longtime members of InnerCHANGE Los Angeles have lived the majority of the teams rich history. They continue to walk alongside local leaders they have mentored for many years, watching them now invest into the lives of others. As experienced missionaries they invest into InnerCHANGE staff and teams globally, Jude also teaches at Fuller Seminary. John has pioneered the LA Book Collective, a ministry designed for leadership and economic development among the poor through the recycling of books.
History
In 1992 a group of missionaries (who had lived in the neighborhood since 1987) joined InnerCHANGE and became the Los Angeles team.
Broadly speaking the ministries that emerged over the years were based around either community building and organizing or church planting and renewal. Some of the fruit of our history include: empowering neighbors living in a slum property to address their living conditions and eventually take ownership of the building and transform it themselves; in a city that is fractured by racial hatred and individualism organizing a "March for Jesus" with local pastors from multiple denominations/socio-economic backgrounds, 10,000 plus Christians walked the streets worshipping, bystanders wept as they saw a testament of hope in the reconciliatory love of Christ; mentoring young adults in educational growth and holistic maturity enabling them to be accepted into college and pass on their success to their neighbors children; using art in discipling graffiti artists and taggers, those whom the local church had abandoned found sanctuary at Magee's donut shop on Friday nights.
To get more of a feel for the InnerCHANGE Los Angeles team: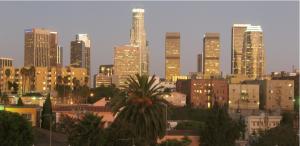 Dates:
19 September, 2011 - 21 September, 2012
Come walk with us as we live out InnerCHANGE's commitments in the Westlake/McArthur Park neighborhood of Los Angeles. Our neighbors are mostly Mexican & Central American Latinos, Mayan Central Americans and those living in local convalescent homes. You will spend this year getting to know these neighbors, loving them and serving them as an integral part of our team. The Lord has recently been birthing a vision within us to plant a farm in our neighborhood (Jeremiah 29:5-7). A farm as an environment to cultivate leaders as we cultivate the land together.