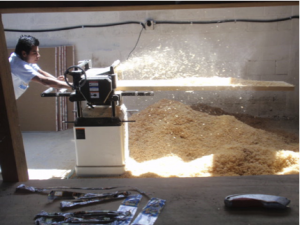 The call to love looks different in different places. Xela, Guatemala is a city rich with history, beauty, education, and all the trimmings of a modern society. But there is an underbelly to Xela—a population of kids who live on the streets and get by shining shoes, washing cars, or working as assistants on the microbuses.
My husband, Julio and I moved to Xela two years ago to begin ministering to these street kids. We've spent time with them in the park, invited them into our home for help with their schoolwork, and watched them play soccer with our daughters on the patio. This was our call to love—to slowly build relationships and trust.
Soon after entering their lives, we heard some of the older boys start to express a desire to learn a trade. They were tired of working long hours on the streets, and they wanted more for their future. Bit-by-bit God was putting a dream in their hearts, and ours, to form a carpentry workshop.
We committed to helping them, and then spent the next two years praying, dreaming, waiting, and gathering funds. This became our call to love—to provide a space where these boys' dreams can come true; where they can become the Christian leaders their community needs them to be.
A few months ago we found a vacant warehouse perfect for the workshop and started fixing it to fit their needs. The boys participated every step of the way—from cleaning out the warehouse, to painting, to building a varnish area with special ventilation and even making their own workbenches.
In January we finally opened the doors to Tallando Vidas, which means "Molding Lives." The name expresses the heart of the project—to not only teach the carpentry trade, but to also disciple and mentor these young men in life skills and spiritual truth. There are now four young men participating in the carpentry shop, and we have a vision to see up to ten at a time. They are so excited and happy to be there, and we are eager to see how God might use this space to shape their lives in new ways. The transformation we hope to see in these young men will mean they are able to impact many, many people throughout their lifetimes for Christ.