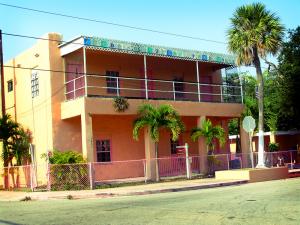 Walking with my neighbors on their life journey is my greatest joy and privilege. It is also my greatest pain and sorrow. In joining them on their journey, theirs becomes mine and mine theirs. Somewhere along the way we go from being neighbors, to friends, to family.
It caused great pain to watch our neighbors put in jail, taking both mother and father from four beautiful boys. But it is with great joy that we celebrated the miracle of our sister's release from jail, now filled with Light and Life that she is pouring into those same boys.
It is a great joy to be invited into a family as Godmother. This sweet baby girl is a delight to my soul, but it is with great pain that I think of how she has been abandoned by her mother, along with seven other siblings. When I hold her she ministers to me and there is redemption in her smile and laugh.
It is a great joy to see one of my neighborhood "little brothers" with bowed head, pouring out his heart to God, asking for a new life, but great pain as I watched him pulled by the street life. It was with great pain that I walked through the journey of HIV with him, going through the emotional and physical suffering with him, ultimately leading to death. This hurt more deeply than almost anything in my life, yet God was very present throughout that journey and now through that, doors have been opened with his whole family. The good God is bringing out of it continues to unfold as I continue on that journey of grief.
Henri Nouwen writes:
"But Jesus walked, and still does. Jesus walks from village to village, and as He walks, He meets the poor. He meets beggars, the blind, the sick, the mourners and those who have lost hope. He remains very close to the earth… He listens attentively to those with whom He walks, and speaks to them with authority of a true companion on the road. Jesus is deeply connected to the earth on which He walks...
The poor who walk on the roads of this world and through the deserts and rough places of the world invite me to remain close to the earth. Sometimes I look up to the clouds and daydream about a better world. But I know my dreams will never bear fruit unless I keep turning my eyes again and again back to the earth and to all those people walking their long, fatiguing walks and inviting me to join them."
People like to ask what a typical day looks like for me, to which I reply with a smile, "I do a lot of walking."
-Laurie Cook