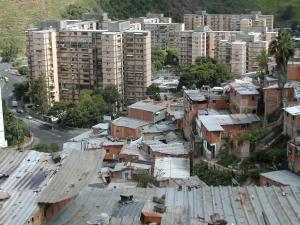 This past Saturday a man was shot on the corner right by our InnerCHANGE office.   Words can't adequately describe the sense of helplessness John, Birgit, our friend Ryan and I felt as we first heard the shots, then the commotion as neighbors gathered on the street to see what was going on.  Someone we know and love could've easily been the target of those gunshots.  Violence is so random and unpredictable here. Most of the perpetrators and victims, however, are young men roughly between the ages of 16 and 30. Some of them are "malandros" who rob and kill, and others are simply in the wrong place at the wrong time.  We didn't recognize the man who was shot on Saturday, but neighbors have told us he was from the apartments at the bottom of our hill and was buying drugs in our neighborhood. By an absolute act of God, some firefighters surveying the park at the top of our hill came down in a jeep just a few short minutes after the shooting and carried the man to the hospital. We haven't heard whether or not he survived.
It's always traumatic when violence hits this close to home.  I'm still feeling a swirling mix of fear, anger, helplessness and that burning fire in my belly to keep pressing on. After we saw the wounded man carried off to the hospital, we gathered in John and Birgit's family room and began to pray and sing. We prayed for the victim. We prayed for the young man who shot the gun. And we prayed for God to come heal our broken neighborhood and pierce the darkness with the light of his love.
Shortly after I returned home on Saturday evening, my 13-year-old neighbor R knocked on my door reminding me it had been a long time since we had baked anything together. Still feeling jumpy and tired, I asked him to come back in an hour, half hoping he would forget. But true to his ever-outgoing self, R returned later with his 14-year-old cousin M ready to try their hand at making chocolate banana bread.  The next hour and a half was spent mixing, mashing, adding ingredients, making adolescent boy remarks about the color and texture of the dough (it was very brown and rather goopy), and singing a rousing round of "Supercalifragilisticexpialidocious" in Spanish* to R's MP3 player.
The chocolate banana bread didn't turn out exactly to my liking, but R and M loved it and we had a great time making a memory together. It didn't take me long to recognize what a gift R and M's visit was, especially in light of the violence earlier in the day. On Saturday afternoon, I listened to gunshots as a group of young men tried to destroy a life. On Saturday evening, I listened as two young men filled my kitchen with laughter, music and the smells of baking bread as they relished the satisfaction of making something with their own hands.
As I sat to pray on Sunday morning, I thanked God for R and M's visit. I prayed that they would continue to find reasons to sing, laugh and make chocolate banana bread. And as I reflected on Saturday's shooting, I cried out for the fruits of God's Spirit to grow in my neighborhood in spite of the darkness and hopelessness we often experience.  And I prayed for more opportunities to share with the kids in my neighborhood whose hugs, smiles, and wide-eyed enthusiasm always give me reasons to hope and press on.
~Beth Carter
Venezuela - June 2010